Images and Original Release provided by UNBC Timberwolves
Prince George, BC, Oct. 20, 2021 – It was a project many years in the making. Today, after a long process of collaboration, consultation, and passion, the University of Northern British Columbia Timberwolves became the first college or university athletic program in Canada to unveil an alternate logo and jersey designed completely by an Indigenous artist and manufactured by Kahunaverse Sports.
UNBC Director of Athletics & Recreation, Loralyn Murdoch welcomed dignitaries, UNBC supporters, and Timberwolves athletes to Masich Place Stadium this morning to unveil the new look, designed by Gitxsan artist Trevor Angus. The immediate response has been overwhelmingly positive.
"This project has been a long time in the making and I am thrilled at the end result.  The collaboration between many different organizations, donors, and our artist Trevor has been amazing and I am honored to have been a part of the process from start to finish," said Murdoch.  "The sense of pride that I hope every student athlete feels when they put on this uniform is something that they will remember forever."
Angus, who attended UNBC from 2000 to 2003, has previously designed the logo for the university's First Nations Centre. When visiting the Prince George campus, Angus was approached by the athletic department about the possibility of designing his own interpretation of the Timberwolves logo. The rest is history.
"I was so excited when this opportunity came about. I remember attending UNBC basketball games, and thinking I wish I could redesign the jerseys with my Gitxsan flare," said Angus. "When the Timberwolves approached me with the idea, I was thrilled. It was a long time in the making due to Covid, but I am happy that it is finally being unveiled."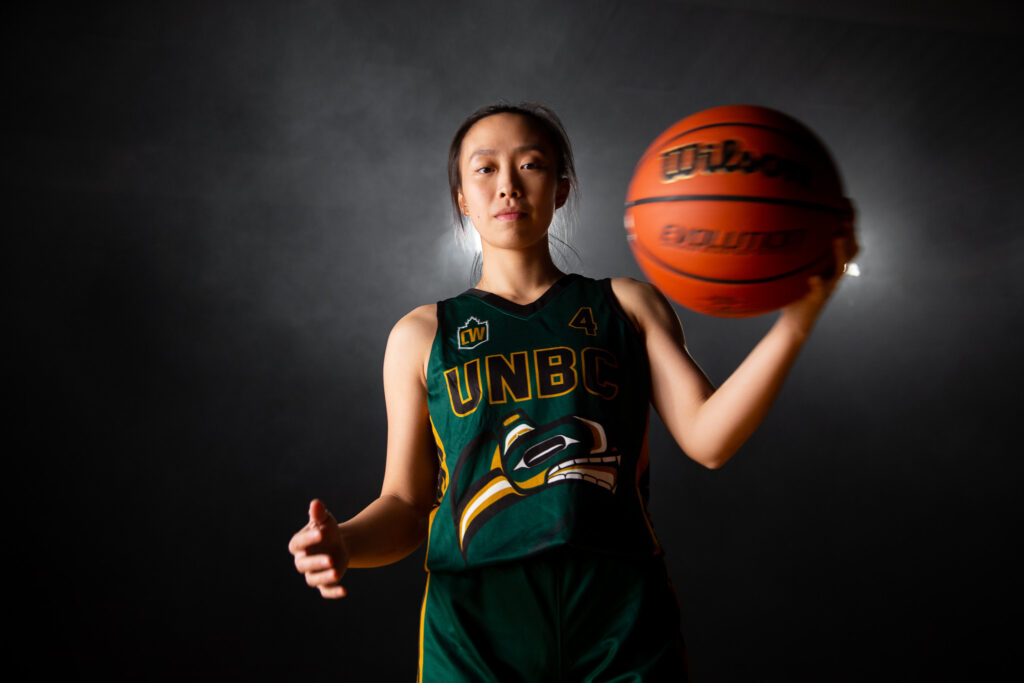 At a media event emceed by Indigenous student-athlete Claire Turner, the TWolves were joined by UNBC Interim President Dr. Geoff Payne, Prince George Mayor Lyn Hall, Lheidli T'enneh Chief Dolleen Logan, UNBC Elder in Residence Marcel Gagnon, as well as staff from UNBC's First Nations Centre and UNBC's Office of Indigenous Initiatives, and supporters and donors of the Timberwolves program. According to Dr. Geoff Payne, the uniforms are another tangible, substantial step the university is taking towards representation and acknowledgement.
"I am incredibly proud of this entire project and what it represents. The Timberwolves have worked diligently in collaborating with so many voices, and it is truly a special day. I can't say enough about the support from the L'heidli Tenneh, our
UNBC First Nations Centre
, the
UNBC Office of Indigenous Initiatives
, as well as the loyal supporters of our university," said Payne. "This will only propel us forward towards better relationships and understanding, and I am thrilled it is happening here in Northern B.C."
The jerseys are, truly, a work of art. Angus took the Timberwolves wolf logo that has been used since 1998, and interpreted it, along with creating custom Indigenous piping that adjourns the sides of the soccer and basketball uniforms. The artist also supplied UNBC with an additional wolf design that sits subtly beneath the main Timberwolf logo.
"I loved the whole wolf theme that was already there, and I worked on that. I always thought of the wolf as an animal that works in a pack, or a team, so I thought it was such a good fit," said Angus. "I had the vision of what I wanted to do before I ever put pencil to paper. I'm happy with the results. I hope UNBC wins lots of games while wearing these jerseys."
Beyond the incredible art supplied by Angus, the jerseys and shorts display meaningful messages that were important to the Timberwolves and the program's stakeholders. In consultation with Lheidli T'enneh Chief and Council, the shorts bear syllabics that translate to "En Cha Huna," while that very phrase sits across the back shoulders of every jersey. "En Cha Huna," is UNBC's motto, from Dakelh (Carrier) Elders, and is interpreted as "respecting all forms of life."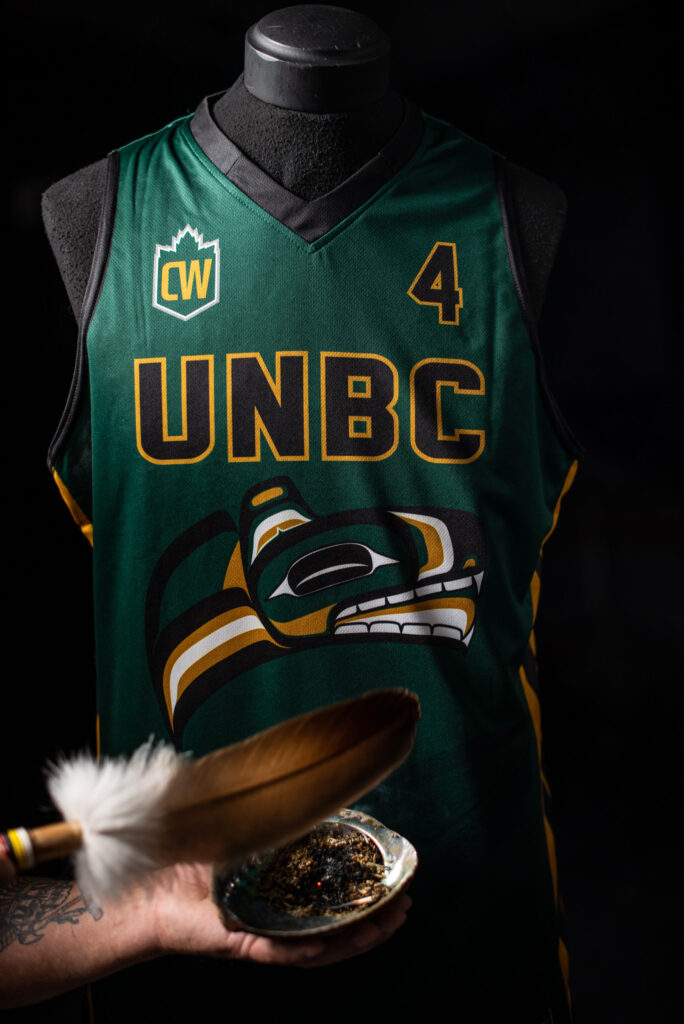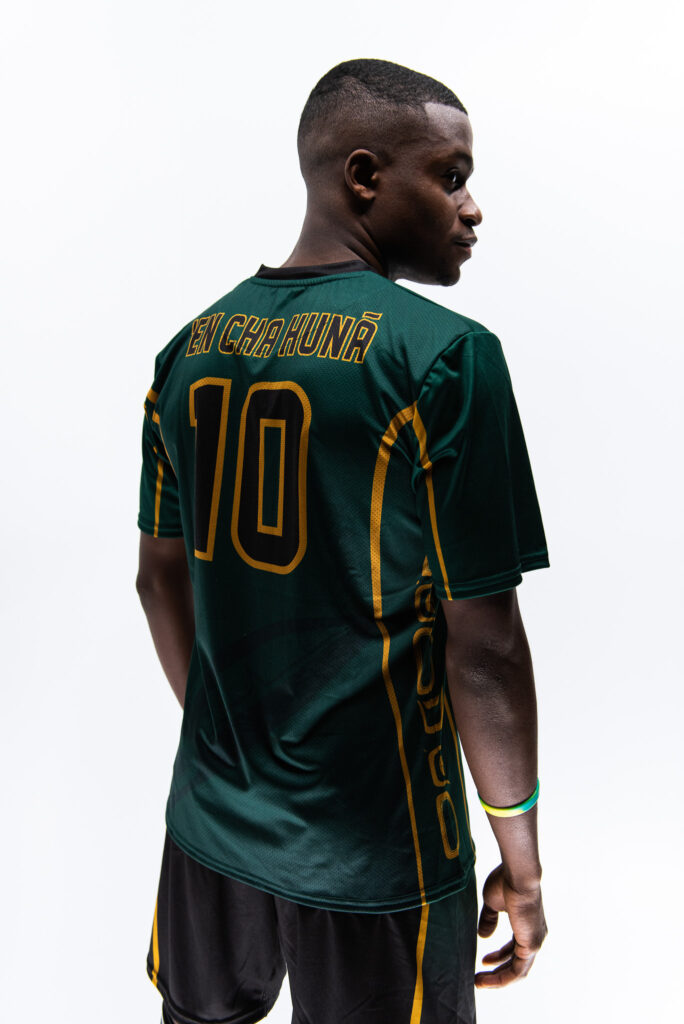 "The motto "En Cha Huna" is truly important, and encapsulates our spirit of academic freedom, respect for others, and our willingness to recognize all perspectives. To have it on the jerseys, and displayed in syllabics is very special. The design of the uniforms is beautiful, but those elements make us particularly proud."
The Timberwolves athletic program has built a tremendous relationship with UNBC's First Nations Centre. The graduating student-athletes are gifted traditional drums, which are built by younger TWolves, under the watchful eye of Elders and Indigenous staff. Additionally, the student-athletes make trips to underserved communities throughout Northern British Columbia to hold camps and sports days.
Prior to today's announcement, the UNBC student-athletes met with UNBC's Manager of Aboriginal Student Engagement, Bev Best, who explained the significance of the jerseys, as well as the traditional smudging ceremony each uniform received.
"Relationships take time, patience, and hard work if it is to be a true relationship," said Best. "That's what the First Nations Centre and Athletics have, and we continue to work towards a positive future for student success at UNBC. I feel fortunate to be a part of that."
Those in attendance got their first look at the new jerseys in an incredible video produced by local production company 6ix Sigma, with the project led by former UNBC basketball player Daniel Stark. Essential to the content, and the project, was the music that accompanies the video. A custom song, provided by UNBC Elder in Residence Marcel Gagnon, was gifted to the Timberwolves, and provides a rousing and meaningful anthem to the day, and the relationship. Gagnon, who is a Juno Award-winning musician, as well as a member of Lheidli Chief and Council, also provided the voiceover work for the video.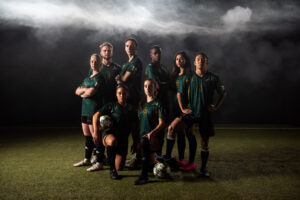 "At UNBC we are so fortunate to have an Elder in Residence program. Marcel Gagnon is our current elder, and his wisdom and storytelling through song are some of the many things he shares with us," said Murdoch. "Marcel is the voiceover on the video, and he created a Timberwolf song which he performed and has gifted to us. This is an amazing legacy from a truly outstanding man."
The soccer version of the new jerseys will make their debut this Saturday, October 23rd against the visiting TRU WolfPack. The event will be the first annual "Nats'ilnik Day," which is the Dakelh word for "coming together." The Timberwolves basketball teams will have their first "Nats'ilnik Day" on November 6th, 2021 against the TRU WolfPack. Admission for both Nats'ilnik Days will be free.
"I think it is so awesome that UNBC has done this," said Angus." It shows such a respect for the territory that the University sits on."
"The uniforms are absolutely gorgeous.  The attention to detail and the meaning behind the detail is a story to be heard," said Murdoch. "I hope it is a story our athletes, our university, and our community cannot wait to tell."
UNBC is a proud partner of Kahunaverse Sports. To learn more about the UNBC Timberwolves be sure to follow them on social media: